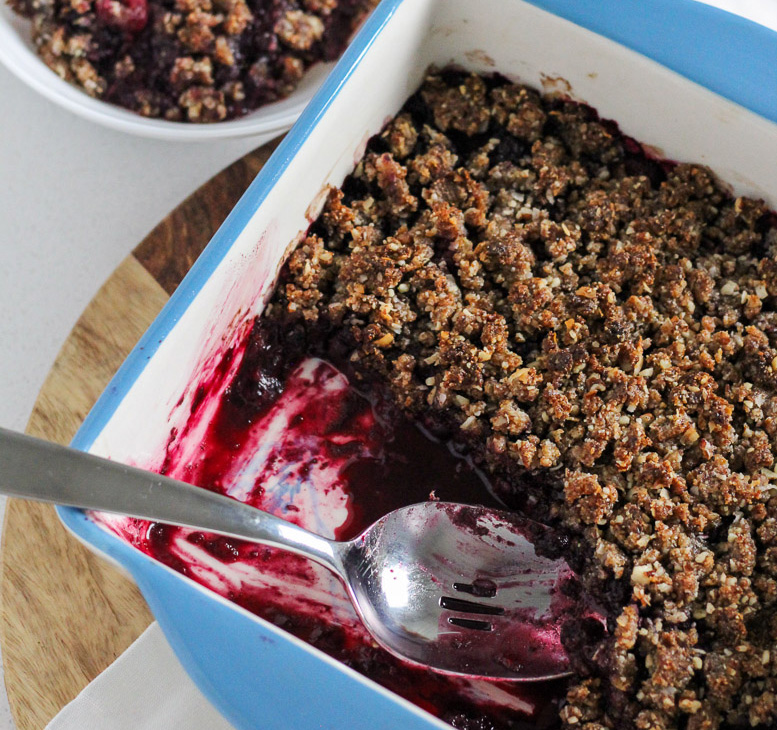 Triple Berry Crumble (Gluten-Free, No-Added-Sugar)
Ingredients:
3 cups Wyman's Triple Berry Mix
1 Tbsp arrowroot starch
Juice of half a lemon
½ tsp vanilla extract, divided
½ tsp cinnamon, divided
6 small medjool dates (pitted)
2 Tbsp melted coconut oil
1/3 cup almond flour
1/3 cup chopped pecans
1/3 cup unsweetened coconut flakes
Pinch salt
Directions:
Preheat oven to 350 degrees Fahrenheit.
Add berries to a medium-sized bowl, toss in arrowroot starch. Add lemon juice, half of vanilla, and half of cinnamon, and mix until well-coated.
Add berries to a lightly-greased 8×8-inch baking dish.
To make topping: puree dates, coconut oil, and remaining vanilla in a food processor until paste-like. Add remaining cinnamon, almond flour, pecans, coconut flakes and salt and process into a crumb-like consistency.
Sprinkle topping all over the berries. Bake until berries are bubbling and topping starts to brown, about 28 to 30 minutes. Let cool before serving as is or with ice cream!